If Garnett Beckman had written a book about her life, one chapter might have been titled, "Age 65 and Beyond: The Active Years."
She discovered a true love of exercise late in life. It began with long walks, which led to three-times-a-week jaunts up Piestewa Peak, which led to more than 20 hikes up and down the Grand Canyon. She first conquered the canyon in her mid-70s; her last trip was in her early 90s.
Beckman adored the sights and sounds of nature and the camaraderie of being with friends, even strangers, on her outdoor adventures. In her 80s, her passion went international, trekking the Andes in Ecuador followed by white-water rafting near Juneau, Alaska.
"Retirees have time on their hands," she said in a 2003 Arizona Republic interview. "So why not fall in love with your body and take an interest in it."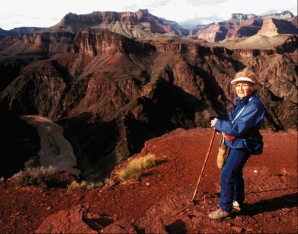 Her attention to both body and soul served Beckman well. Her curiosity about life and love of friends and family – not to mention a fondness for a calculated game of bridge – carried her into becoming one of the oldest among the old. Beckman died Friday after a brief illness. The Phoenix resident was 103.
"She always created a party around her," said longtime friend and former Republic photographer Suzanne Starr. "She loved meeting new people and learning their story. She was wise and funny and always ready to discuss politics. When not visiting or walking, she was reading and recommending a new book. Being a proud Virginian, she brought with her a feeling of the best of the old-style hospitality, plus a directness that made you sit up and want to improve your manners because she would be pleased."
Cathy Hughes was a close friend for 20 years. "Garnett has enriched my life beyond measure," Hughes said. "She taught me a lot about how to live, about how to grow old, and, finally about how to die. She was one class act. She never wasted a single day. Even in the last couple of years, when I sensed it was excruciating for her to get out of bed, she was up and about, arranging bridge games, doing yard work, arranging lunch dates, and going to the grandkids' soccer games."
Garnett was the nexus for many friendships and often organized a Sunday morning hiking group. She brought the coffee and homemade apple bread.
Hughes made a trip to Costa Rica with Beckman when her friend was 91. "The tour company called me before the trip because they thought her date of birth must have been a mistake. It was, after all, a hiking trip," Hughes said. "When we got to Costa Rica, the tour guide took me aside to express his concern that Garnett would not be able to do the hikes in the Monteverde Cloud Forest. I laughed and said, 'Just watch her.' For the rest of the trip, the guide had to ask her to slow down."
Read more: http://www.azcentral.com/arizonarepublic/local/articles/2010/11/28/20101128garnett-beckman-obit.html#ixzz174sWcB7I