We hike in about a month!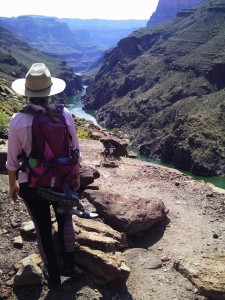 I am getting VERY excited about our R2R2R hike in about one month !!!
We just spent a glorious week on a Grand Canyon whitewater rafting trip, so we previewed the Bright Angel Trail and the day we were on the South Rim it was 60 degrees … hard to believe in a month it will be over 100 degrees in the inner corridor and instead of trying to stay warm we will be fighting the sun and heat. Â This photo was taken on a day hike around Stone Creek.
I have added some new things to my gear list this year, including some CoolQ clothes, headbands, and a cold towel. Â These are made of those performance fabrics that keep you cool when sweaty and so far so good in the Arizona heat. Â  The real test will be in the Canyon, of course.
See you soon …