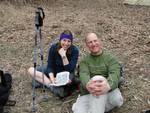 This was just too good not to share:
This was Kim and Larry's training hike #4, the Kaintuck Trail.  It was their first attempt at backpacking.  Thanks to some very nice folks at the Sierra Club, they had all the gear they needed for two nights in the woods.  During the main hiking day they logged about 9 miles through the beautiful Mark Twain National Forest.  Larry discovered that sleeping on the ground is no longer appealing, and while the hiking was great so are hotels.  They had new experiences, made new friends and even the rainy weekend didn't diminish a wonderful weekend. 
After assuring Larry that we go lodge to lodge on r2r2r, he came up with "L2L2L". 
I love it. 
Jean