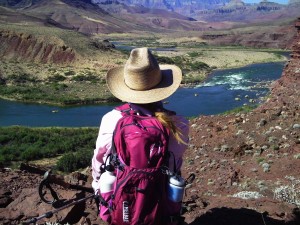 We did something a little different this month – an Upper Canyon Trip. Â 88 river miles (whitewater) on the Colorado River from Lee's Ferry to Phantom Ranch. Â This included morning and afternoon hikes into side canyons, up to waterfalls, saw ancient ruins, and on the last day we hiked 8 miles from Pipe Creek up to the South Rim of the Grand Canyon.
I loved hiking in the Grand Canyon before, but this was beyond spectacular and a completely different experience. Â This photo of me is from a day hike, we were watching a group of rafters go through this small rapid, around mile 68.
R2R2R is a test of physical and mental endurance. Â Sleeping under the stars in the Grand Canyon when you haven't seen a phone, computer, or even a fire in a week? Â Relaxing. Â A week on the river off the treadmill of everyday life? Â A total life reboot and recharge. Â Our outfitter, Hatch Expeditions, was exceptional.
Another Grand Canyon whitewater trip in our future between R2R2R hikes? Â ABSOLUTELY YES.