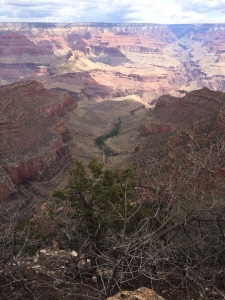 Living in perpetual summer here outside of Phoenix (it is going to be 97 degrees today) it is hard to believe the North Rim has already closed for the winter – and that we will soon be hiking R2R2R again when it re-opens! Â If we were standing at the South Rim today (instead of stuck behind a desk at work) the trees in that ribbon of green pictured below would be changing colors at Indian Gardens.
All winter hikers should check out the NPS Backcountry GC site for the water updates because the pipeline is shut down in the inner canyon for the winter – including the 1.5 and 3 mile rest houses on the Bright Angel Trail.   That impacts everyone hiking down or up from Phantom Ranch.
Look under critical backcountry updates (and remember it is always a real possibility there may be NO clean water in the Canyon – always carry enough water and supplies to filter and purify creek or river water if you can even find those sources):
The list below shows if water has been turned on or off for the season
North Kaibab Trailhead: water turned ON

Supai Tunnel: water turned OFF
Roaring Springs Day Use Area: water turned ON
Pumphouse Rest Area: water turned ON
Cottonwood Campground: water turned OFF
Bright Angel Campground: ON year-round
Plateau Point: water turned ON
Indian Garden: ON year-round
Bright Angel Trail, Three-Mile Resthouse: water turned OFF
Bright Angel Trail, Mile-and-a-Half Resthouse: water turned OFF
Bright Angel Trailhead: ON year-round
South Kaibab Trailhead: ON year-round
That is a lot of "OFF" folks – miles and miles of "OFF".
Have a great weekend everyone, and GO Kansas City Royals in the World Series tonight !!!