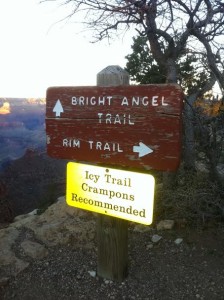 Rule #1. Â Educate yourself about current conditions.
If you aren't a geek like me watching the National Park Service News Releases … well, you should.
Once you step below the Rim you'd better darn skippy have water to drink or a water source to drink from. Â Or you, well, you die. Â Pretty clear, yes? Â Want to learn, yes?
This time of year is dicey anyway, they close the North Rim and everything is shut off from Cottonwood to North Rim – because there is nothing there but 100 miles of snow and nothing else.
But you can't take water elsewhere for granted because the pipeline gets fixed and turned off ALL THE TIME. Â Like now.
If you are hiking soon, or hiking ever, check out the NPS back country critical updates or the NPS news releases for water updates.  For today, the news is on http://www.nps.gov/grca/learn/news/temporary-pipeline-shutdown.htm.
That means: Â "Drinking water will be unavailable at Bright Angel and Cottonwood campgrounds, Roaring Springs, and Manzanita Rest Area (formerly Pumphouse Residence) during the shutdown. Day hikers and backpackers should be prepared to carry all drinking water or be able to treat creek water for drinking.
The TCP shutdown will not affect 1 1/2-Mile Resthouse, 3-Mile Resthouse, and Indian Garden on the Bright Angel Trail or Supai Tunnel on the North Kaibab Trail."
Water is off and there has not been a water-back-on update yet. Â You can call them too, at the Backcountry office 928.638.7875.
Hike smart or stay home, really.