If my math is right, we're 24 days from our South Rim to North Rim trek.  I can't believe it's been a year since I was sitting in Mike Mac's office looking through the R2R2R 2010 pictures and begging to sign on for this year's trip.  Eric's Facebook quote about taking a journey just in preparing for one perfectly describes the last 12 months for me.
I'm guessing my story started about five years ago, oddly enough, in the driveway of my neighbor and dear friend Amy's house.  As a bit of background, my own mother describes the street I live on as "Pleasantville."  Picture lots of kids close in age, parents who like to hang out and enjoy frosty beverages, lawn chairs, and late-night conversations.  I really can't imagine what my life would be like if I didn't live on my street.  I am thankful every day for the people who started out as simply my neighbors, then became my friends and have since turned into family.
Amy's brother Tad was a regular visitor on our street.  He loved traveling, adventure and anything having to do with fitness.  I remember Tad doing shirtless, walking lunges up and down our street — for some reason the ladies of the 'hood always found a reason to come outside simultaneously to set their trash can on the curb even though trash day was the prevos day or make a trip to the mailbox even though it was Sunday.  Tad worked for a travel company leading adventure/vacation trips.  When he was in between trips, he'd roll up on our street in his company van with what seemed like 50 mountain bikes on the back.  He created an e-mail distribution list and sent regular e-mails detailing his adventures and travel mishaps to his family and friends.  Tad had an incredible knack for writing and making people smile.
It was on one of these trips to our street (I'm pretty sure he had just returned from a long stay in South America) where I was telling him how amazed I was at all his travels, and how I'd love to travel the world someday, but I doubted that would ever be in the cards for me.  He assured me travelling the world was indeed amazing, but there's so many things to see right here in the US — you could spend a whole lifetime exploring and never have to leave "what's right beneath your feet."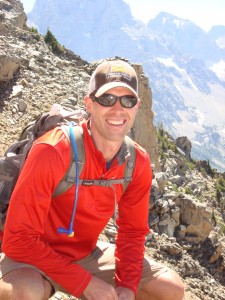 Tad died in April of 2010.  As I was watching a video at his funeral highlighting many of his travels — South America, Europe, New Zealand, Mt. Kiliminjaro (yes, he made it to the top)  just to name a few — I remembered our conversation in the driveway.  And while I'll probably never climb Kiliminjaro or explore the glaciers of New Zealand, I'll do my best to explore — and let my kids experience — all we have that is right beneath our feet.
So when I heard about R2R2R 2011, I knew this was the trip for me.  I started going to a boot camp here in KC three times a week in August.  My husband and I took the ridiculous amount of money our family spent eating out each month and hired a personal trainer, which has been one of the best decisions we ever made.  I feel like I've spent so much time on the stairclimber at the gym the last few months, they may ask me to pay property taxes on it this year.
So — do I have any hiking experience?  No.  Am I a little nervous about all the Canyon has to offer, i.e., rattlesnakes and crazy inclines?  Slightly.  Am I as physically ready as I can be for the 50-some-odd miles?  I sure hope so.  Am I excited to go out and explore what's right beneath my feet with all you amazing people?  ABSOLUTELY!  And I'm sure when I'm on the plane back to KC, I'll have all of you — and Tad — to thank for an amazing experience.
See you all soon.   GC R2R2R 2011!