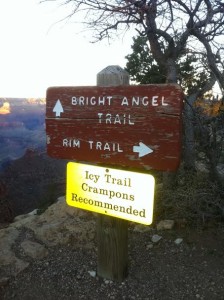 If you have not seen the Grand Canyon in the snow, you should put it on your to-do list. Â The Canyon in the winter is quiet, peaceful, and something about the snow gives you a little sense of depth as you peer down into it.
Be aware that if you plan to do any hiking below the Rim you need to buy "crampons" for your boots and be ready for ice and snow. Â Yes, it's that time of the year!
Crampons are traction devices (steel tips) that you strap on over your hiking boots. Â  You can do a quick internet search and find multiple sporting good stores that sell them. Â  You can get a recreation pair for around $5, or go all out and get something alpine rated for bigger$$. Â  Mine are the $5 type and are perfect for day hikes.
Why do you need crampons? Â The North Rim closed mid-October so you'll be visiting the Grand Canyon Village on the South Rim. Â The first 3 miles of the Bright Angel Trail face to the north and are in the shade for most of the day. Â For those of you who have never lived anywhere snowy: Â Shade + Snow = Ice.
Ice is no fun at all when you can slip and fall 2,000 feet.
I've been on the trail as late as an Easter weekend in April and there was an accumulation of one foot of snow and ice on the trail at that time. Â  I remember thinking "No way is this going to melt in 6 weeks for our R2R2R", Â but it did.
Take your hiking poles with you. Â You'll want the stability and something to grip when those mules pass by you on that muddy, icy, snowy trail.
The weather forecast predicts snow tonight up at the Grand Canyon. Â MAN, I wish I was up there !!!